By Adam Roberts – 10/8/2020
At the time of this writing, it appears that we FINALLY will have a little more full slate of high school football to cover this week. While schools like La Crosse Central, Logan, Sparta, G-E-T, Holmen, Arcadia, Westby, and others remain sidelined, this week we get back West Salem, De Soto, and all the Minnesota schools as well! It all means there's more action to look forward to, more games to cover, and more responsibility for John on the Pizza Oven Postgame Show.
I love it.
 VS 
WEST SALEM (0-0) vs ONALASKA (1-1) (ESPN La Crosse 105.5, espnlacrosse.com, TuneIn @ 6:45pm)
Every so often, great teams need a reality check, and it's not necessarily a bad thing. Last week, the Hilltoppers got one of these checks, with Jerry Sinz and the Edgar Wildcats putting on a defensive display. Anyone familiar with Wildcat football knows that good games against them usually average under 20 total points, and while Ona's D did a good job of containing Edgar's offensive weapons, their own weapons were completely stymied by the speedy Wildcat secondary.
In fairness, wideout Hudson Weber did perform well; his four catches for 85 yards reaffirmed to everyone that he will become a top target over the course of the season for quarterback Ayden Larson. Between him, Landon Peterson, and Albert Romero, the offense will grow from this loss, and they get a chance to respond this week against West Salem, a team taking the field for the first time this week. Coach Justin Jehn knows that the first game of the season can be filled with jitters, but West Salem has been something of an anomaly in the world of COVID-19 with steadily holding in-person instruction for the last few weeks. This, according to Coach Jehn, has helped to build team unity in an era of separation. It will interesting to watch the development of junior quarterback Noah LaFleur; there were definitely growing pains throughout the 0-9 season, with LaFleur completing under 50 percent of his passes for 542 yards, three touchdowns, and seven interceptions. But Coach Jehn has confidence in that position, also referring with excitement to sophomore Brett McConkey; at already 6'2″ and 190 lbs, he certainly has a bigger stature than most 15 year old high schoolers in the area. I still think this one goes decidedly to the Hilltoppers.
Prediction: Onalaska 42 West Salem 7
 VS 
REEDSBURG (1-1) @ TOMAH (0-1)
The Timberwolves were scheduled to face a formidable opponent in #6 Darlington last week before the COVID bug bit the Redbirds program. This week brings in a Beavers program to EJ McKean that rebounded nicely from a season opening loss to Portage with a completely one-sided win over Sauk Prairie with a 41-6 final score that really should have been 41-0. Tomah's Justin Gerke has had a couple of weeks to improve and reflect on the loss to Onalaska, and this week he'll face off against a good defensive challenge; the Beavers through two games have given up just 50 yards through the air. On the ground, Reedsburg was torched by Portage in Game One; the Beavers gave up 230 yards rushing, 215 of which were split between the Portage tandem of Junior Bazaldua and Ethan Bleich. For a chance to win, Tomah needs more production from their own ground game; they amassed just 24 yards on 23 carries against Onalaska.
Prediction: Reedsburg 27 Tomah 20
 VS 
AUSTIN, MN (0-0) @ WINONA (0-0)
With no games played this fall yet in Minnesota, we have to look back to last year to see how these first games will unfold. And on paper at least, this one appears to be one of the more one-sided games of the week. You have a Winona team that finished the regular season last year 8-0, was ranked fifth in Class 4A, and probably was a Rocori upset in the state semifinals from winning the whole thing. And then you have Austin, a program that hasn't had a winning season in over a decade. The Winhawks will have to find a replacement for graduated OL/DL unit Aaron Witt, but the next-man up mentality has guided Winona to four straight state tournaments.
Prediction: Winona 42 Austin 14
 VS 
AQUINAS (1-0) @ MAUSTON (2-0)
This game could provide an opportunity for both schools to get some respect from programs and media members statewide. The schools have a common opponent in Viroqua, and each program properly dispatched toe Blackhawks by multiple scores. The Blugold offense led by the trio of Jackson Flottmeyer, Will Cambio, and Joe Penchi were clicking against Viroqua last week, with the sophomore quarterback Flottmeyer getting a number of receivers involved. This offensive diversity gives Flottmeyer plenty of places to go if things start stagnating. Meanwhile, Mauston running back Kraig Armstrong was a workhorse last week against Wautoma (240 yds on 36 carries, 1 TD). He leads the South Central Conference in yards on the ground by a country mile, and has put up triple digits on the ground in both games this season. Ground and pound versus air raid should provide plenty of entertainment.
Prediction: Mauston 34 Aquinas 28
 VS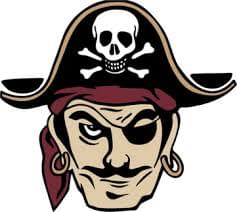 LUTHER (1-1) @ DE SOTO (0-0)
Talk about a complete about face. Luther, one week removed from a one-sided victory over Boscobel, were stymied right from the beginning against River Ridge. The Knights were outgained 372-44, and the third quarter was particularly rough with two touchdowns against them and a safety in between. River Ridge grinded the clock last week, running 42 times, and the results last week should have the Pirates salivating. Not only are the hungry to finally get a game in this season, but Ev Wick-coached teams loveeee to run; last year they accumulated 2,343 yards and 30 scores on the ground, with Trevor Rebhahn leading the way with 1,615 of those yards and 24 of those scores. The primary rusher this year figures to be senior Jacob Kurszewski (59 rushes, 304 yds, 2 TDs last season). We'll see how he looks against the Luther D-line, but the odds seem to be in his favor.
Prediction: De Soto 34 Luther 7
  VS 
VIROQUA (0-2) @ BLAIR-TAYLOR (1-0)
As referenced above, 2020 has not been kind thus far to Viroqua. The defense has given up 48 points in back-to-back weeks, and now they'll be tasked with managing Blair-Taylor. The Wildcat's offense didn't look super flashy against Whitehall last week, but Cain Fremstad was a solid passer with 145 yards and two scores. Alec Reismann had some big catches and averaged 23.5 yards per catch. Look for the Blackhawks to continue trying to get Nick Schneider touches on the ground.
Prediction: Blair-Taylor 24 Viroqua 6
 VS 
MELROSE-MINDORO (0-1) @ ELEVA-STRUM (0-1)
Neither one of these programs had an all-too inspired offense in their opening games. The Mustangs amassed just 66 total yards in a 21-0 loss to Pepin/Alma, and while no stats are available from the Cardinals' loss to Indy/Gilmanton, I doubt it was much better for them. Mel-Min didn't have many big games scoring last season either though; apart from their wins over Hillsboro and C-FC, the Mustangs regularly scored less than 14 points and averaged just 16 PPG even with those two big wins. This one has the potential to be a grind-it-out, one-score affair. I'd say it's a pick 'em.
Prediction: Mel-Min 14 Eleva-Strum 13
 VS 
P-E-M (0-0) @ #1 (CLASS 2A) CALEDONIA (0-0) (Saturday, 10/10)
The streak currently sits at 68 wins for Caledonia football. And since they won't be able to repeat as 2A state champions this year since there won't be a state tournament, the streak becomes the title defense for the Warriors. The King Dynasty also continues this year; with quarterback Noah King now hoping to play hoops at Kirkwood Community College this season, Eli King assumes the throne. Eli currently has three Division One scholarship offers on his plate, and that number figures to increase this year one season after racking up 952 yards on 53 receptions for 21 scores in 2019. Under center this year for the Warriors will be Isaiah Reinhart, and while filling the shoes of Noah King won't be easy, Reinhart did get snaps in garbage time last year. Conversely, P-E-M went 2-6 last season and while they didn't face Caledonia they had a 1-2 record against common opponents.
Prediction: Caledonia 35 P-E-M 6
 VS 
WINONA COTTER (0-0) @ HAYFIELD (0-0)
To say times have been tough for Winona Cotter football recently would be putting it mildly. In a situation similar to Boscobel, the Ramblers have been held winless since October 13th of 2017, and last season they scored a TOTAL of 19 points and averaged just over 22 yards of offense per game. Not to say that Hayfield was a dynamite program last year with a 3-5 record, but they were able to put together a pretty solid passing attack with Brady Nelson under center. The torch will be passed to sophomore Ethan Pack this season, but I don't think it matters much here.
Prediction: Hayfield 28 Winona Cotter 0
 VS
HOUSTON (0-0) @ SPRING GROVE (0-0)
The Lions were able to advance to the 9-man Section 1 semifinals last year, falling to Grand Meadow 24-14. But unlike other teams on this preview, they'll be bringing back a few of their big weapons from a year ago; both leading rusher Mitch Reynolds and leading receiver Caden Grinde are seniors this year. The only notable turnover on offense will be at the quarterback position, where Isaac Griffin takes over for Chandler Bergrud. Meanwhile, Houston was also bounced in the Section 1 semis last year to top seed LeRoy-Ostrander, and they will lose their top three offensive producers from last year.
Prediction: Spring Grove 28 Houston 14