By Adam Roberts – 10/15/2020
While COVID-19 has made scheduling a week of NFL and college football games an absolute chore, some stability appears to have found its way into high school football in our area (for now).This week, we have a bit more clarity about what games will and won't be happening, as well as what the plan is for some schools who will move football to the spring. Both Holmen and Sparta have unveiled their spring football schedules for 2021, and they both include games against La Crosse Logan (the Sparta schedule does not currently have a game planned against La Crosse Central but Holmen will play the Red Raiders on April 1st).
Looking at this week's schedule, a number of games stand out, from Caledonia having a chance to win its 70th consecutive game to the first of two straight scheduled games between Hillsboro and De Soto. Let's look over each of this week's scheduled contests:
 VS   
WINONA COTTER (0-1) @ WABASHA-KELLOGG (0-0) (Thursday, 10/15)
We mentioned Caledonia is playing for its 70th straight win this week, a streak that has garnered attention across the country for its longevity and sheer inconceivability. On the flipside, Thursday night's lone Coulee Region game features two teams who have struggled mightily to find any success as of late. The Ramblers have lost 17 straight dating back to October of 2017, and last week fell 28-8 to Hayfield despite a decent defensive showing. Their opponents this week haven't fared all that much better the last few years; in the same time frame as the Ramblers' losing streak, the Falcons have gone 4-13. Despite a 1-7 campaign last year, Wabasha-Kellogg did win big over Cotter 40-6 in Week Seven; it was the only time the Falcons scored more than twice in a game all season.
Prediction: Wabasha-Kellogg 34 Winona Cotter 7
 VS  
TOMAH (1-2) @ WEST SALEM (0-1) (6pm on ESPN LA CROSSE 105.5, espnlacrosse.com, TuneIn)
Anyone listening to last week's Coulee Region Football game between West Salem and Onalaska likely heard Mitchell Speltz commend the defense of the Panthers many times in the second half of the broadcast and later on the Pizza Oven Postgame Show, as well. It was quite merited, as very few teams hold Tom Yashinsky coached teams to under 20 points, let alone a program that went win-less last year. Head coach Justin Jehn is trying to build a new culture of winning at a school that just three seasons ago was part of a three-way tie for the MVC championship. They get Tomah this week, who are in the midst of their own culture-defining season under first year head coach Joe Prontz. A big boost to that program was granted last week, as the Timberwolves used two fourth-quarter goal-line scores to comeback against Reedsburg. Despite this, I believe the Panthers should have the tools they need to manage quarterback Justin Gerke this week after largely controlling Ona's Ayden Larson on the deep ball. If they can shore up their rush defense this week and Noah LaFleur takes the next step as the starting QB, I actually like the Panthers to get their first win in a while; the fact that this game will be their home opener should help, as well.
Prediction: West Salem 20 Tomah 14
  VS   
ONALASKA (2-1) @ ST CROIX CENTRAL (2-1)
After looking like a classic Hilltopper offense in Week One against Tomah, Onalaska has been a little out of sorts on that side of the ball in the two games that followed. A speedy, stout defensive Edgar secondary kept Ona in the single digits in Week Two, and as mentioned above West Salem's D almost powered the Panthers to victory. The Hilltoppers were a 54 yard Albert Romero big-play touchdown run away from falling to 1-2 last week, and this week Coach Yashinsky has penciled in a game against another difficult opponent. St. Croix Central is just a couple of seasons removed from their run to state in 2018, the third straight year they made it to Camp Randall, and they will be hungry this week after a shocking loss to Ellsworth last week. The shock of it was less to do with the opponent (Ellsworth is 3-0 this year, so they're certainly a solid opponent), and more to do with the fact that it was another fourth-quarter comeback; Ellsworth won the Battle of the Panthers despite trailing 22-13 with 6:15 remaining in the fourth quarter. With that in mind, the Panthers of St. Croix Central will be craving a rebound game. Ona's stout defensive line must be up to the task of stopping the SCC backs; they totalled up 289 yards on the ground in a losing effort.
Prediction: St. Croix Central 27 Onalaska 22 
  VS 
WINONA (1-0) @ #8 (CLASS 4A) BYRON (1-0)
While it's just a one game sample, another offense that struggled last week was Winona's. Their 225 yards of total offense was just enough to beat a usually underwhelming Austin squad 14-9, and it dropped them out of the Class 4A rankings this week. The biggest problem for Winona early on was procedural penalties, along with an offense learning largely on the fly after having to replace seven scholarship athletes from last year. QB Jacob Heftman did have two touchdown tosses on 6-14 passing for 159 yards. I can only assume that this week has been an ultra-intense week of practice for head coach John Cassellius, as the Winhawks now head into #8 Byron's house on the heels of the Bears' 59-0 season-opening schlacking of Albert Lea and will need to be in tip-top shape to have any chance to win on the road. Winona has a big winning streak of their own to defend as well; the Winhawks have been victorious in 25 straight contests. That could be in jeopardy this week.
Prediction: Byron 35 Winona 21
 VS 
AQUINAS (2-0) @ WESTBY (0-0)
Possibly in tribute to the late Joe Laurinaitis, the Blugolds have been true Road Warriors this year; trips to Viroqua and Mauston have showcased the burgeoning offensive talents of quarterback Jackson Flottmeyer, Will Cambio, and the entire Aquinas offense. This week, the Blugolds visit Westby, a team that had its season put on hold right as they were getting ready to welcome Onalaska to town back in September. Coach Andy Hulst sounded very stressed out when I talked to him a mere hour before the stoppage was announced, but I have to imaging he's absolutely jazzed to be preparing for another game this week. That said, there will likely be a lot of jitters for the Norsemen, and a cool and collected Blugolds unit should win this week. (Also, shout out to Blugolds' coach Joseph Blatz, had it not been for him I wouldn't have even known for sure if this game was happening this week!)
Prediction: Aquinas 31 Westby 18
 VS 
IOWA-GRANT (0-2) @ LUTHER (1-2)
Someone has to win this game, and I believe it will be Luther. Though the Knights' offense has come back down to earth after their explosive win over Boscobel with two less-than-stellar outings, at least they have an offense to work with. Iowa-Grant has yet to score a point through two games played, and they have not looked competitive at all against either albeit solid programs River Ridge and Highland. Last week against De Soto the passing attack led by Dillon Yang wasn't awful (10-20, 113 yds, 1 INT), and there could be a great opportunity for the Knights' receivers to rack up some big yards this week.
Prediction: Luther 36 Iowa-Grant 7
 VS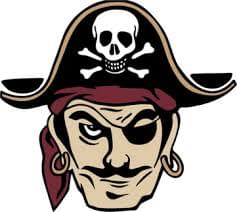 HILLSBORO (0-1) @ DE SOTO (1-0)
This will be the first of two games scheduled between Hillsboro and De Soto; the Pirates had a game scheduled against Ithaca for this week, but the Bulldogs shuttering their football program necessitated a quick backup plan from coach Ev Wick. De Soto was effective on the ground last week against Luther, and will per usual pound the rock against Hillsboro. In addition, another home game in The Pit should be kind to the Pirates; they're 5-1 in their last six home games.
Prediction: De Soto 28 Hillsboro 14
 VS 
INDEPENDENCE/GILMANTON (1-1) @ MELROSE-MINDORO (1-1)
The Mustangs were galloping once again last week. After a sluggish opener against Whitehall, Mel-Min racked up 226 yards on the ground against Eleva-Strum, and they needed every one of their four rushing touchdowns in a 27-21 win. The defense also found their groove last week, forcing three Cardinal interceptions. It was very interesting to watch all-purpose senior Tucker Sbraggia; he rushed for a score and as a punter averaged 40 yards a boot. On the flipside, Indy/Gil has written a tale of two games so far; they played a very good game in the opener against Eleva-Strum 22-0, but then they ran into Pepin-Alma last week, losing via two big-play runs 20-8. This one, like many Dairyland games, will play out closely in my opinion and could go either way.
Prediction: Mel-Min 21 Indy/Gilmanton 20
 VS 
BLAIR-TAYLOR (2-0) @ PEPIN-ALMA (2-0)
This is the kind of game you want to see late in the season; in a normal year, this October 16th game could be for the Dairyland title. Both teams were tested last week but ultimately prevailed, with Pepin-Alma beating Indy as mentioned above, and Blair-Taylor just scoring enough over Viroqua 30-22; QB Cain Fremstad was pretty efficient in that win, going 8-11 for 149 yards, two scores, and one interception. This game likely will hang on what kind of game Pepin-Alma's Lane Wieczorek. The senior running back rushed for 111 yards and a score against the Indees and had three scores against Mel-Min Week One. This is another pick 'em and may be the game to watch this week.
Prediction: Pepin-Alma 28 Blair-Taylor 27
 VS 
#1 (CLASS 2A) CALEDONIA (1-0) @ STEWARTVILLE (1-0)
*UPDATE* Per the Caledonia Twitter page, this game has been cancelled.
VS 
SPRING GROVE (1-0) @ GRAND MEADOW (1-0)
This one is hard to call for a couple of reasons. First, there aren't a ton of statistics from either team's wins last week, and secondly that there just isn't enough coverage of 8/9 man football in general (we're trying to help change that!). What we do know is that each team has had a ton of recent success, and that Grand Meadow was the victor in the most recent matchup between these two. The 9-man sectional semifinal between these two last year was a very close game until the very final minutes of the fourth quarter, when GM's Dusty Copley ran for a 4 yard score followed by a Daniel Smith rushing score to make it a 24-14 game. Needless to say there is plenty of history between the two schools, and on a chilly Friday night the game could very well be determined at the line of scrimmage. (On a non-football note, if you never have, look up Grand Meadow High School on Google Maps, it's one of the most interesting high school architectural setups I've ever seen)
Prediction: Grand Meadow 28 Spring Grove 22
 VS 
RANDOLPH (1-0) @ RUSHFORD-PETERSON (0-1)
Defense was king for the Randolph Rockets in their season-opening win over Bethlehem Academy; they forced four sacks and an interception en route to their 20-7 victory. Meanwhile, while there are no stats on Rushford-Peterson's loss to Blooming Prairie (submit your stats to MN Football Hub, people!), it's safe to say you don't allow 37 points by being stout on D. Of course, we must consider that Blooming Prairie are the defending Class 1A state champions who have made it to the state tournament every year since 2011. Randolph has been steadily improving as a program the last three seasons, and will give the Trojans all they can handle in their home opener.
Prediction: Randolph 22 Rushford-Peterson 15