By Adam Roberts – 10/22/2020
My condolences to anyone who has been digging themselves out of the heavy, wet snow part of Wisconsin and Minnesota got yesterday. In my humble opinion, snow should only be allowed during a specific window of time starting after Halloween and ending immediately after the NFC/AFC Championship games in football; I like snow games on the field, but since they're always trying to play the Super Bowl either indoors or in a warm climate, the cursed stuff can kindly go away after championship game weekend.
The forecast for this weekend looks relatively dry for both Friday and Saturday, which should afford us a weekend without weather impacting most of our area high school football games. Still, I'd make sure to bring that heavy jacket if your area team is allowing fans this weekend; temps are predicted to drop into the low 20s Friday night and will only warm into the low 40s on Saturday. Now, here's a look at this week's prep football schedule.
Prediction Record Last Week: 7-1-? (Couldn't find a result from Winona Cotter-Wabasha-Kellogg; I'm starting to think that game didn't happen.)
 VS 
DOVER-EYOTA @ #1 (CLASS 2A) CALEDONIA (Saturday @ Noon on ESPN La Crosse 105.5)
Take yourself back to November 15th, 2014. On a cool evening in Eden Prairie, two teams meet for the honor to head to TCF Bank Stadium for a state title ( Work on US Bank Stadium had just broken ground the following December). On that date, the number one song on the pop music charts was Taylor Swift's Shake It Off, and the Knights of Bird Island/Olivia/Lake Lillian toppled the Caledonia Warriors 21-0. Nine months and one week later, the Warriors blew out La Crescent 55-7, and a half-decade of dominance was born.
69 Caledonia football games have been played since that loss to BOLD, and there have been 69 Caledonia wins. Only twice has a team lost to the Warriors by  two touchdowns or less, and one of those was a game against Dover-Eyota in 2018.
This week, it's largely believed that the Warriors will pick up their 70th-straight win, although as Warrior head coach Carl Fruechte said during our Coulee Region Football Conversation this week, they never ever overlook an opponent. The Eagles are a gritty team under head coach Brett Vesel, and will not be a pushover team to beat this week despite their blowout loss to Chatfield this season. That being said, wide receiver turned quarterback Eli King is a special force of nature in the line of great King athletes for the program. He was all over the place against P-E-M on October 10th; throwing for a score, running for two, and returning a kickoff 82 yards for another. He also should continue this week to form a strong connection with WR1 Austin Klug, who had 111 yards through the air against P-E-M.
Prediction: Caledonia 40 Dover-Eyota 8
 VS 
AQUINAS @ WEST SALEM
The Aquinas Air Raid machine's wheels kept on turning last week against Westby; quarterback Jackson Flottmeyer went 10-16 for 171 yards and had four touchdowns, three to receiver Quinn Miskowski, and continues to look like the best up and coming quarterback in our area. But getting the Blugolds to their first 3-0 start in over a decade hasn't come without cost; the run game took a big hit on the opening kickoff of the second half when senior Will Cambio injured his knee. We still don't know about Cambio's status for this week, and that could be big going up against a West Salem team that allowed just 78 yards on the ground against Tomah. Aquinas linemen Preston Horihan and Gavin Weinberger are also injured, so expect the Panthers to be aggressive getting to the young Flottmeyer and flooding the backfield. The Timberwolves passed 41 times against the Panthers last week, and the Blugolds could approach that number themselves. I believe the scoring capability through the air for Aquinas will be the difference, but this should be a good classic game pitting a great offense against a great defense.
Prediction: Aquinas 28 West Salem 21
 VS 
ONALASKA @ ADAMS-FRIENDSHIP
This week was originally scheduled to be Onalaska's road trip to Sparta, but with the Spartans and Holmen pushing football back to spring, a familiar weekly ritual began for head coach Tom Yashinsky and athletic director Jason Thiry. They were able to schedule the Green Devils this week, who themselves were originally scheduled to face the Phoenix of Montello/Princeton/Green Lake. Adams-Friendship has played MVC schools with some regularity in the past, but there haven't been many football match ups between the Green Devils and the likes of Onalaska, La Crosse Central, etc.
The Hilltoppers will face a Nick Stormoen coached unit that likes to pass the ball; in last week's loss to Wautoma, A-F QB Chrystian Quinnell threw 26 times. The Green Devils were playing from behind last week from the get go, and so coach Yashinsky and the Hilltopper offense would be wise to be aggressive with play calling from the get-go. It will also be imperative not to let the foot off the gas; last week of course the Hilltoppers had a lead over a great St. Croix Central team,  but the Panthers executed a beautiful game-winning drive with 3:11 left in the fourth.
Prediction: Onalaska 35 Adams-Friendship 19
 VS 
TOMAH @ PRAIRIE DU CHIEN
Another program that has flown by the seat of their pants when it comes to scheduling is Tomah, but this match up intrigues me for how evenly matched this one could be. Blackhawks' running back Bradyn Saint has been a workhorse in the team's two wins this season; 155 yards against Platteville and 148 yards last week against Darlington on 60 carries in those games. But Saint has yet to score a touchdown this year for a PDC team averaging just 14 points a game.
On the flip side, we see that Tomah has put their season largely into the hands of Justin Gerke; as mentioned above, the team passed 41 times in the loss to West Salem, and while there were three Gerke interceptions in those 41 attempts, coach Joe Prontz seems comfortable letting Gerke's arm determine the game. Zander Williams and Drew Brookman both had good games last week, and they'll be top targets again this week against a PDC secondary that has given up three passing touchdowns in three games.
Prediction: Tomah 21 Prairie du Chien 18
 VS 
ALBERT LEA @ WINONA
It could be easy to forget given the massive streak that has developed about 38 miles to the south, but Winona actually had a nice winning streak of their own going. The Winhawks were on a roll in the regular season heading into the 2020 season with 24 straight wins, and while things looked shaky to open the year against Austin, they secured a 14-9 win to push the streak to 25. But things came to an end on the road last week, where the eighth-ranked in 4A Byron Bears used an opportunistic defense to top Winona 28-0.
All signs point to a rebound win at home this week; Albert Lea has looked abysmal to start 2020 with back-to-back shutout losses to both schools Winona has faced this season albeit in reverse order (59-0 to Byron, 47-0 to Austin). Jacob Heftman in particular should be itching for a chance to air it out a little more than last week; he completed just over 50 percent against Byron but was held to 128 yards and an interception.
Prediction: Winona 47 Albert Lea 8
 VS 
KETTLE MORAINE LUTHERAN @ WESTBY
This is another one of those unique COVID-influenced match ups. I actually have a little bit of reference for what KML is all about; they were a former member of the Flyway Conference that Springs plays in, and they usually would finish right around .500 during my time in school, even if their games against Springs weren't usually close (the point differential was 35-179!). The program has fallen on tough times since leaving the Flyway after the 2014 season for the East Central Conference; under coaches Matt Heckendorf and David Kren they are 5-40 since swapping conferences. But they enter this week at 2-2 with back to back victories over Berlin and Port Washington.
The Chargers have firmly established themselves as a ground and pound team; Joey Ehlke leads the way with 563 yards and six scores; 367 of those yards and five of those scores have come in the last two weeks. Normally, running a team nearly exclusively through one person is dangerous, but it could work against a Westby defensive line that allowed three rushing touchdowns against Westby last week. The Norsemen will counter on the ground with senior Garrett Vatland, who scampered for 138 yards and two scores of his own against the Blugolds. I almost wish it would be snowing in Westby this week so the scene would be a classic grind it out football game. I know Westby also opened up their new football field recently, but it'd be even cooler if they were still playing on the combined baseball/football field in town. Either way, this should be a good test for both teams' linemen.
Prediction: Westby 22 KML 12
 VS 
ALTOONA @ VIROQUA
Both teams enter this week's game seeking their first wins, but I could end the preview with one sentence since I believe this one goes to Viroqua. While it's true the Blackhawk defense has struggled all year allowing 42 points per game on average, their offense has shown marked improvement since Week One. Running back Nick Schneider was the driving force behind Viroqua almost upsetting Blair-Taylor two weeks ago with two scores and two 2-pt conversions. Compare that to the Express, who not only are given up over 43 points per game themselves but have only scored three times this season, and just once outside of garbage time (that one score in time that mattered was immediately followed by a 92 yard kickoff return touchdown for Prescott's Aiden Russell in a 49-6 Altoona loss).
Despite the point differential, Altoona had given a lot of different players reps at the running back position. They were outgained on the ground 350-148 against Prescott, but had eight different backs touch the ball. All it takes is one player having a big game to change the outcome of a contest, though I think Viroqua comes out on top here.
Prediction: Viroqua 32 Altoona 12
 VS 
Melrose-Mindoro @ Pepin-Alma
In case you didn't know, I absolutely love the parity at the top of the Dairyland Conference. The first time these two teams met on October 2nd was a one-sided 21-0 P/A win, but I don't think that will dictate what happens this week. Since that loss, the Mustang offense has found their comfort zone running the ball; 488 yards in two wins against Eleva/Strum and Indy/Gilmanton will tend to do that. Pepin-Alma meanwhile will be hungry this week to rebound from what happened last week against Blair-Taylor. The Eagles played 36 minutes and 37 seconds of solid defensive football in building a 19-8 lead. But then Cain Fremstad hitched up his pants and captained a Wildcat comeback; a weird unintentional onside kick then gave the ball back to B/T, and they were able to orchestrate what wound up being the game-winning drive.
Eagle QB Jordan Pearson was efficient against the Wildcats, despite a pick, he completed 72 percent of his passes for 125 yards and a score. Having a confident Pearson under center could be the difference, since Mel-Min has yet to find a ton of passing consistency.
Prediction: Pepin-Alma 26 Mel-Min 21
 VS 
BLAIR-TAYLOR @ COCHRANE-FOUNTAIN CITY
With their comeback over Pepin-Alma, Blair-Taylor is flying pretty high right now. In a normal year, the Wildcats would be on the fast track to win the Dairyland Conference. that aside, this match up between Blair-Taylor and C-FC was going to be one those who follow the conference closely would be monitoring with interest.
While the Pirates have just one game under their belt, their offense looked impressive in a 40-22 win over Augusta last week. C-FC outgained the Beavers 383-232 on offense and were led through the air by QB Austin Becker with four TD passes and on the ground by Zach Foley with 101 yards and a score.
I think the Pirate offense will come back down to Earth slightly this week, but Blair-Taylor will need to clamp down defensively early; they can ill afford to fall behind again since I believe the C-FC offense will build a bigger lead if allowed to than Pepin-Alma did.
Prediction: Blair-Taylor 28 C-FC 22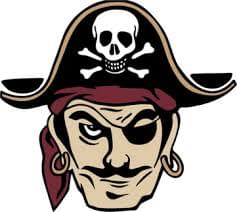 VS 
DE SOTO @ HILLSBORO
Very rarely do two football teams at any level play each other two weeks in a row, especially at the high school level within conference where teams usually only see each other once a year barring a playoff showdown. But, again, COVID makes this season unlike any before, and here again we see the that in action.
Not a ton to say about this match up; last week De Soto was their usual punishing self on the ground with 276 yards and four scores, while quarterback Alex Scoville made the most of his only six pass attempts, completing four tosses for 87 yards and two scores. De Soto should win this one big again.
Prediction: De Soto 42 Hillsboro 0
 VS 
FILLMORE CENTRAL @ RUSHFORD-PETERSON (Saturday)
Both teams are in need of a pick-me-up after tough starts to 2020. The Fillmore Central offense through a couple of games has averaged under 100 all-purpose yards, while Rush-Pete has at least shown some life. The second quarter against Randolph last week was the difference in that game; take away the 16 Rocket points that wouldn't be answered until the fourth quarter and the Trojans are 1-1 this year. The Rush-Pete pass defense will need to step up this week; they allowed three scores through the air off the hand of Randolph's Jacob Weckop last week.
Prediction: Rush-Pete 28 Fillmore Central 16
 VS 
LANESBORO @ SPRING GROVE
Lanesboro might be at the top of my list for places I want to visit that I haven't so far in the region. I often have spent summer days tubing down the Kickapoo River, but I keep hearing that the Root River is a must-tube spot during the warm months. ANd speaking of hot, the Burros' offense was firing on all cylinders last week against Kingsland. While there were no offensive stats listed for Lanesboro last week, they put up 42 against the Knights while simultaneously holding the Kingsland quarterback trio of Kaden Rath, William Jahn, and James Howard to 5-21 passing for 100 yards and a score.
They meet Spring Grove this week, who ran into a Grand Meadow buzzsaw last week 40-6. Traditionally, the Lions have dominated this series, winning every regular season meetup dating back to 2011 (they did not meet in the regular season last year but Spring Grove did top the Burros in the section quarterfinals by a score that would make the Priests of the Temple of Syrinx very happy 21-12).
Prediction: Spring Grove 41 Lanesboro 16
 VS 
KINGSLAND @ HOUSTON
As mentioned above, Kingsland was handed a difficult loss to Lanesboro last week, largely due to an ineffectiveness throwing the ball. This week, they face Houston, who had no problem moving the ball against Mabel-Canton in a 40-16 win. The Hurricanes should have the advantage here, as Kingsland continues to develop an attack; the Knights currently average under 100 yards on offense and the rushing attack is an ever big work in progress than the passing game.
Prediction: Houston 34 Kingsland 12