By Adam Roberts – 10/29/2020
What a week. Badger football is on pause at least until Wednesday, and the state is probably in need of a good weekend of high school football more so than any weekend since the start of the season. Thankfully, though Mel-Min has had their game against Whitehall cancelled this week, there are still plenty of games to discuss.
Last week's prediction record: 7-6
   VS
WEST SALEM @ NEKOOSA (6pm on ESPN La Crosse 105.5, espnlacrosse.com, and TuneIn)
The Papermakers had been scheduled to face Manawa this week followed by powerhouse Stratford. Both of those games were axed this week, so West Salem needing a game of their own was glad to step up. While speaking with Nekoosa head coach Mark Tuttle, he commented on his team's style of play: gritty, old fashioned, and run, run, run. They're transplants from the South Central Conference now playing in the CWC-Large alongside perennial state title contenders Amherst and the aforementioned Tigers of Stratford, Despite their 1-3 record, they are running high on their 36-7 win last week over Weyauwega-Fremont. Over the last two weeks, their junior running back duo of Cordero Ysquierdo and Hunter Lochner combined for 244 yards and four scores against W-F, but this week they meet the meat grinder that has been the Panther defense. So far, Justin Jehn's boys have allowed just 33 points, including a 22-6 win last week over Aquinas (to be fair, the Blugold offense was without Will Cambio, but they did hold upstart QB Jackson Flottmeyer in check with just 8-21 passing for 87 yards, a TD, and an INT).
This game will be a good ol' fashioned game of trench warfare; the Ysquierdo-Lochner Connection will be countered by Luke Noel, who against Aquinas casually went for 149 yards and 3 TDs. Some may be inclined to just give this one to West Salem based on record, but don't forget the Papermakers have played some tough competition already and are likely to follow Coach Fruechte's mantra in Caledonia: Respect Everyone, Fear No One. I do like West Salem in this game based largely on how they competed against Onalaska; with the way they largely handled Ayden Larson, I like their chances against a Papermaker unit that is still feeling out young buck Ethan Hoogesteger (3-6, 59 yds, 0 TDs, 1 INT against W-F).
Prediction: West Salem 27 Nekoosa 7
  VS  
AQUINAS @ ONALASKA
Last week, those above Panthers were able to stifle the blistering Aquinas passing attack we've seen this year, and although the coaching staff would never admit it, the absence of senior running back Will Cambio likely hurt the passing game more than many might realize. Having that run option available to compliment your quarterback is so underrated at the high school level, where an extra level of deception can keep a defense guessing from start to finish. If Cambio can't go again this week, more production will be needed from junior Joe Penchi and sophomore Calvin Hargrove (67 and 25 yards against West Salem respectively) to keep this one competitive. The reality is that Aquinas is battered and bruised, and this game could prove a great example as to why it was a smart competition decision to leave the MVC. Conversely, Onalaska will hope to use this game to further highlight the skills of their own running back Albert Romero; last week against Adams-Friendship he rushed for a season-high 177 yards and four scores, and his average is now over 115 yards per game.
Prediction: Onalaska 34 Aquinas 13
   VS  
ROCHESTER CENTURY @ WINONA
Coach John Cassellius was in a tough place Friday. Albert Lea had to pull out of their scheduled game with the Winhawks due to a player testing positive for COVID-19, and it appeared Paul Giel Field would sit empty last weekend. But thanks to quick thinking from Red Wing's Nate Freier, there was in fact a game played Saturday, in which the Winhawk defense responded wonderfully from a difficult showing against #8 Byron two weeks ago and shut out the Wingers 28-0. While quarterback Jacob Heftman was mostly a game manager against Red Wing, Dominic Davis stepped up on the ground going for 101 yards on 16 carries including a 34 yard score. The offense still has plenty of room to grow, and this week they take on a Rochester Century defense that has given up an average of 28 points per game in their two losses this year. To be fair, last week the Panthers were tasked with trying to stop #2 (Class 5A) Owatonna, who have two dynamic backs in Dylan Maas and Tanner Hall that totaled 231 yards. But this means there's an opportunity for the Winhawks to spread their wings so to speak in the run game, and with a nice bounce back win under their belt I predict that's exactly what we'll see.
Prediction: Winona 27 Rochester Century 14
   VS   
TOMAH @ WESTBY
Last week, Westby gave up 21 points in the first quarter to Kettle Moraine Lutheran, and despite shoring up the defense after that, the offense was nonexistent against the Chargers. Quarterback Dillon Ellefson was harassed from the start, throwing two interceptions and struggling to maintain any drives for the Norsemen. Those two picks were part of a three turnover evening for Westby. This week they won't get a break on defense with Tomah visiting fresh off a 21-14 win over Prairie du Chien. Timberwolf QB Justin Gerke had a slow start against West Salem two weeks ago, but was firing on all cylinders against the Blackhawks, connecting with Zander Williams twice in the end zone and establishing a solid due with Drew Brookman for a 15.5 YPC average on 6 receptions between those two. Credit must also be given to Tomah's defense, which tightened up down the stretch in what was a close game. There are a few similarities between Prairie and Westby, so if Tomah repeats the formula they should find success.
Prediction: Tomah 20 Westby 12
   VS   
RICHLAND CENTER @ VIROQUA
Lost in all the conversation about Albert Romero's big week for Onalaska was a spectacular performance by Viroqua back Nick Schneider. I've known from the beginning of the season that this senior could be a vital piece on a contending team in a normal season, but last week against a less-than-stellar Altoona squad he was on full display. Schneider put the team on his back courtesy of 178 yards on 26 carries and a score, although senior quarterback Eric Jerdee made the most of his limited pass attempts: 7-8, 98 yds, 2 TDs, and a passer rating just a point shy of perfection (157.3). Not to be lost in all the praise for Schneider is the fact that the Blackhawks had a number of players involved. 10 players not named Nick Schneider contributed to the offense last week, giving coach Duane Skalecki confidence he can diversify the playbook and get everyone involved. The Hornets meanwhile have their own ace running back in junior Bryce Hillers; he came alive against Dodgeville on Friday with 208 yard and three scores on nearly half the carries Schneider had for Viroqua. How much of this was due to a porous Dodgeville defense is uncertain, but the battle of the backs will be the story to watch in this game. I give the slight advantage to Viroqua due to Jerdee's efficiency, though he'd be wise to keep an eye out for defensive end Bryson Clarson; the junior Hornet was all over the field last week with 11 total tackles.
Prediction: Viroqua 22 Richland Center 20
   VS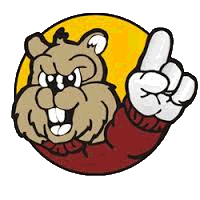 #1 (2A) CALEDONIA @ #6 (2A) CHATFIELD
I kind of wish this would have been Caledonia's match up last week when we visited for Coulee Region Football. Not that I'm complaining about the chance to call the top-ranked Warriors' 70th straight victory, buttttttt between a Top-10 Class 2A showdown and the 66-7 blowout we got last week against Dover/Eyota, I think I know which game most of you would choose to call. There's certainly no disrespect intended to Brett Vesel's Eagle team; I give them all the credit in the world for playing a four-quarter game against the Warriors. However, this week should the biggest test of an abridged season for Caledonia.
During the streak, the Warriors have outscored the Gophers 313-49 in nine match ups including four playoff games. What could make this year different? Well, the sixth-ranked Gopher defense has been stifling this season; last week they pitched a shutout against Zumbrota-Mazeppa (the Z-M recorded a lone safety in the 19-2 game), and they've given up just seven non-safety points all season. Granted, their competition hasn't been the strongest, but as Caledonia head coach Carl Fruechte says: Respect Everyone, Fear No one. The difference, just like every game this season and last, will come down to containing Eli King; the junior only played a half against D/E last week, but he probably only needed a lone quarter. As it was, he finished with six completions for 138 yards and three scores, a 70-yard TD run where we went untouched, and a 48 yard punt return score. Someone else on the Caledonia roster who needs recognition is Casey Schultz; the defensive lineman had a pick six against D/E and was sniffing out run plays and QB runs from the first play from scrimmage.
Prediction: Caledonia 34 Chatfield 21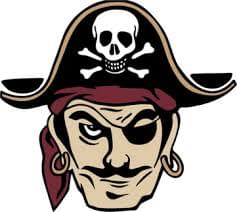 VS   
DE SOTO @ BOSCOBEL
This game would appear to be an open and shut case. De Soto has put together about as good a team as they've ever had, and that's saying something. Last week against Hillsboro the third piece of the puzzle fell into place as the Pirates had a special teams field day. On defense, much like Viroqua on offense, everyone was getting involved; four Pirates recorded double digit tackle totals and they ensured that, much like Beavis and Butthead, there would be no scoring for the Hillsboro offense. And speaking of offense, despite no one player having a breakout game for De Soto, the Pirates still racked up 202 yards on the ground and were in complete control of the game clock. Meanwhile we haven't heard much from Boscobel since their 43-0 loss to Luther on Coulee Region Football Week One. Their only other game was three weeks ago against Pecatonica/Argyle, a 30-27 Bulldog win. All I can base my opinion on is their performance against Luther, and I did not see much of anything in that game that makes me believe the Pirates will be challenged much this week.
Prediction: De Soto 41 Boscobel 6
    VS 
AUGUSTA @ MELROSE-MINDORO
Cooperation between programs is key in pandemic-era football. We saw that cooperation in action last week with Winona and Red Wing, and we see it again here in this matchup. Both Augusta and Mel-Min's original games this week were cancelled (vs Indy/Gil and @ Whitehall), and this would be a seemingly easy game to set up between two Dairlyand foes. Football-wise, this could be a one-sided affair. The Mustang offense isn't turning a lot of heads this year, but it's getting the job done with a good balance of pass and run. I gave Pepin/Alma the advantage over Mel-Min last week, and the Mustang defense responded with three interceptions of P/A QB Jordan Pearson. The opportunistic Mustangs will go up against an 0-3 Augusta unit that has been scoring (24 ppg); the defense just hasn't been there yet (around 35 points allowed per game).
Prediction: Mel-Min 21 Augusta 7
    VS   
ELEVA-STRUM @ BLAIR-TAYLOR
I've mentioned before that it's dangerous to have your team run entirely through one player if you don't have talent to back them up. Teams like De Soto and Caledonia can get away with a superstar dominating the statlines because overall they are well-built football teams. Eleva-Strum runs things largely through QB/RB Nick Higley, but the complimentary help hadn't for the most part been around him this season. That is until last week, when the Cardinals had six different receivers get involved in the passing game, including a touchdown each for Alex Anderson and Zach Krueger in their win over Augusta. The defense also stepped up big with their three interceptions. But they were still burnt for 177 yards through the air, and Blair-Taylor will be looking to get the passing game going after Cain Fremstad encountered problems against C-FC. #13 was held to under 100 yards in a winning effort, but he still was regularly finding Kyle Steien open down field. Matthew Brandenburg carried the weight for the Wildcats last week running for 154 yards and a score, and the Wildcats are just a more complete team overall. I see them improving to 5-0.
Prediction: Blair-Taylor 30 Eleva-Strum 12
    VS
PEPIN-ALMA @ C-FC
The final Dairyland game this week may fly under the radar since it's in an area that has spotty coverage between the La Crosse, Eau Claire, and Winona media markets. But both teams need a win after tough but well-played losses the week before. We mentioned C-FC's game against Blair-Taylor and their ability to limit the effect Cain Fremstad had through the air. They would be wise to study the film from Pepin-Alma's game last week against Mel-Min and study how the Mustangs were able to put together a dominant pass defense effort with three picks. The Pirates have a pretty good passing game of their own, and last week Austin Becker did his best to keep the Wildcat corners guessing. P/A's key to a win would be to ensure that the Pirate running game is stifled once again; C-FC only gained an abysmal 7 yards on the ground.
Prediction: C-FC 18 Pepin-Alma 14
    VS 
RUSHFORD-PETERSON @ GOODHUE
Against Fillmore Central, the Trojans played a game very similarly to what the Green Bay Packers played against Tampa Bay a few weeks ago. Great, dynamic first quarter and an ugly second quarter. Despite this, it was a one score game after three 27-20. But a late FC TD put the game out of reach. Needless to say, every detail of that second quarter has likely been analyzed down to each individual mistake on each play so as to avoid a repeat. That hyper focus leads into this week's game against Goodhue, a team which has made regular state tournament appearances this decade but has not had a lot of the sparkle of those seasons so far this year. Things were particularly rough against a subpar Lewiston-Altura team two weeks ago, a 53-8 drubbing.
Prediction: Rushford-Peterson 27 Goodhue 16
    VS
SPRING GROVE @ KINGSLAND
In last week's edition of the High School Football Preview, I predicted Spring Grove would stifle the Lanesboro defense, but instead, the Burros were all kinds of successful against the Lions in a 36-14 win. Much like Rush-Pete above, I'm pretty certain this week has been one of thorough reflection for Spring Grove as they prepare to take on Kingsland, who was no slouch at all against Houston. The Knights compiled 283 yards of total offense against the Hurricanes, spreading things out nicely and doing just enough to win. The defense also contributed with two forced fumbles, and I think the more well-rounded team wins here.
Prediction: Kingsland 28 Spring Grove 18
   VS  
HOUSTON @ LeROY-OSTRANDER
Houston wasn't outplayed last week against Kingsland. Rather, two evenly matched teams played a game that ultimately came down to a couple of key moments. That might not be the case this week, as a LeRoy-Ostrander team comes in fresh off a close game against a ranked Grand Meadow team that likely expected to roll.
Prediction: LeRoy-Ostrander 21 Houston 14