By Adam Roberts – 11/12/2020
We have arrived at what will serve as the postseason this year for Wisconsin high school football. It has been a chaotic, sometimes stressful, event-filled race to the finish this season, and the fact we are even contemplating playoff football of any kind is a testament to all the people both in front of and behind the scenes working to make this year possible.
First, a quick overview of the games that have already been played this week:
Kasson-Mantorville 47 Winona 6
Bethlehem Academy 27 Winona Cotter 26
Lanesboro 14 Houston 0
Spring Grove 28 Mabel-Canton 24
Hayfield @ Rushford-Peterson – Cancelled
Now, let's go over the games to be played this Friday.
Prediction record so far: 3-0
DIVISION 2
    VS   
PORTAGE @ ONALASKA
The Hilltoppers haven't played in two weeks, but that last contest featured a dominant performance from quarterback Ayden Larson against a depleted Aquinas team. Larson went 13-17 for 237 yards, four scores, and an INT, and the man who has become his primary wideout target Hudson Weber had a big night of his own; 6 catches, 133 yards, 2 TDs, and a passing touchdown to Landon Peterson. Needless to say, anyone worried about the lack an Ona offense need only refer to this game and their 50-6 win over Adams-Friendship earlier this year. They also demonstrated how methodical they can be if need be; in the fourth quarter, the Hilltoppers were on defense for just one play, intercepting a Jackson Flottmeyer pass, and grinding clock the rest of the way.
For Level One, the Hilltoppers will host Portage, and on paper this one would appear to be a lock for Ona. The Warriors were shut out by the pod's 2-seed Baraboo 38-0. On offense, the Warriors gave up the ball four times, and running the ball was particularly tough with three fumbles.
Prediction: Onalaska 35 Portage 8
   VS   
TOMAH @ BARABOO
Against Aquinas, Tomah lived on the big play. QB Justin Gerke completed just 9 of his 20 pass attempts, but at over 239 yards and with four touchdowns, he clearly was instructed to attack the Blugold secondary. The result was two scores to the super tall Kade Gnewikow at a 28.3 YPC average, while Drew Bookman also had a score and averaged 49 yards a catch on two big receptions.
Gerke's development this year has been fantastic to watch, and this week he'll need another big outing with 6-1 Baraboo up next. The Thunderbirds have a star of their own in QB/RB/LB, who defensively is garnering interest at the D1 level. On offense, Larson has accumulated 1,430 all-purpose yards and 16 touchdowns in seven games played. Despite all the struggle of playing football in 2020, the season has been the best for Baraboo since their 6-4 2006 campaign; Steve Turkington has led the T-Birds to their first winning record this decade on the back of Larson and a crushing defense that had only one slip up against Sussex Hamilton. A potential Baraboo-Onalaska Level Two game would be a true litmus test for this program.
Prediction: Baraboo 28 Tomah 22
Division 4
   VS   
WESTBY @ PRAIRIE DU CHIEN
If any game had the potential to be the lowest scoring of the night, this might be it. The Norsemen have struggled to stay consistent on offense this season, but against the Blackhawks even just a couple of scores can make for an interesting game. Prairie has been predicated on defense for some time now under Corey Koenig, and that has continued this year to the tune of 3-3. Last week, despite a 111 yard rushing performance from Richland Center running back Bryce Hillers, the Blackhawk defense was stifling in the redzone and receiver Jon Nicholson was the beneficiary of a couple of nice tosses from quarterback Maddox Cejka for all the Prairie scoring. Meanwhile, Westby in an unorthodox regular season game against Athens was gashed on the defensive line for 210 rushing yards against them, and despite one of their better offensive outings of the season, fell to the Bluejays 40-28. Look to see if Cade Fleming has another big game after running for 109 yards and a score last week to pick up the slack of a slightly off night for Garrett Vatland.
Prediction: Prairie du Chien 20 Westby 14
    VS   
VIROQUA @ NEKOOSA
The Papermakers are a good case study in what it "by any means necessary" actually means. Heading into the day of their regular season finale last week against West Salem, Nekoosa appeared to be set to cancel due to a number of students having to quarantine. But head coach Mark Tuttle wanted to give his boys one final game at home, even if it meant essentially a JV team being fielded against the Panthers. Despite that 35-6 loss, the Papermakers will get another opportunity to end their home schedule on a high note against Viroqua. Even writing off last week, Nekoosa's offense hasn't been particularly inspiring this season, with Tuttle noting the program is clearly in a rebuild. Meanwhile, after a big showing against Altoona, Viroqua's scoring has tapered off considerably as well; six total points in two losses to Richland Center and Wisconsin Dells. Still, Nick Schneider always has big game potential, and against an uncertain Papermaker front, maybe Schneider has another sneaky good game.
Prediction: Viroqua 22 Nekoosa 18
DIVISION 5
    VS 
AQUINAS @ DARLINGTON (6pm on ESPN La Crosse 105.5, espnlacrosse.com, & TuneIn)
Last year when these two met as conference opponents, the Blugolds (who I just noticed are cropping up in this preview quite a bit) clamped down on defense for a 14-0 win. This year, if Aquinas is to repeat the feat, they will have to call upon many reserves to have big games. The Blugolds have 13 players who will be out for the game, including another game missed for running back Will Cambio. That will put more pressure again on sophomore quarterback Jackson Flottmeyer for another air raid, which will mean establishing an early connection to wide receiver Quinn Miskowski. The Redbirds often run man coverage on defense, so if Miskowski can out-athlete the corner off the snap and catch balls thrown his way, the Blugolds might keep this close. But Coach Travis Winkers will counter Flottmeyer with his own QB  Braden Davis, who despite throwing for just 74 yards against Aquinas in the loss last year had over 160 all purpose yards against Platteville last week and executed a beautiful game-winning drive against an excellent Potosi/Cassville a week before that.
Prediction: Darlington 27 Aquinas 20 
   VS
MONDOVI @ LUTHER
ESPN La Crosse 105.5 was originally supposed to call the Luther-Osseo/Fairchild Level One game this week, but the Thunder were forced to cancel. Coincidentally, Fall Creek had to cancel against Mondovi, and so rather than taking a week off, the two schools agreed to simply move up their Level Two match up to this week and then end their seasons after that. The game we get will come down to Luther's ability to contain Tanner Marsh. From a pure yardage perspective, Marsh has put up numbers that would make Bangor backs blush; in the season-opener against the aforementioned Osseo/Fairchild, Marsh ran for a season-high 321 yards, and has amassed 1,378 yards this season, leading all divisions. His average of 196 yards per game is staggering, and not to be overlooked also is his seven yards per attempt. That and a stout O-line helping him achieve those numbers could spell trouble for the hosts.
Prediction: Mondovi 34 Luther 18
   VS   
MELROSE-MINDORO @ LANCASTER
My old high school coach, the legend Bob Hyland at St. Mary's Springs, told us a story ahead of our 2009 sectional final against Lancaster. Once he started going on about how he would chase his brother around the yard with snapped arrows I started tuning out, but the core of the message was that arrows hit you hard. This is very true in Lancaster, where they thrive on hitting first, and never holding back off the snap. The past 10 years have largely been successful ones for John Hoch, though this year they've fallen in three games against very tough competition (vs River Valley, vs Darlington, @ #4 Mineral Point). Needless to say, they are battle hardened as they welcome Mel-Min, themselves fresh off finishing the year 4-2 with a shut out loss to Blair-Taylor.
Prediction: Lancaster 35 Mel-Min 14
DIVISION 6
    VS
COCHRANE-FOUNTAIN CITY @ BLAIR-TAYLOR
This Dairyland Level One match up is a rematch of the October 23rd meeting at C-FC, which wasn't exactly the blow out Wildcat win many thought it might be. Give credit to the Pirates, despite the odds stacked against them, they hung right with B-T early, and even had the lead at the end of the first quarter. From there, Cain Fremstad took over and managed his offense enough to notch a touchdown in each quarter of the game. Two big interceptions of C-FC QB Austin Becker were also helpful. At home, the Wildcats should repeat.
Prediction: Blair-Taylor 28 C-FC 14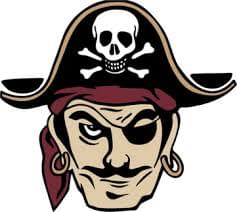 VS   
DE SOTO @ POTOSSI-CASSVILLE
Quite possibly the most intriguing playoff match up featuring an area team, these two are programs that work their rear ends off week in and out to be better than their opponents. Obviously, this should be the goal for every program, but knowing the adversity Ev Wick and the Pirates have been through the last few years coupled with the nose to the grindstone attitude of coach Mark Siegert makes this one a real feel-good game between two schools that both deserve to be in the pod final. The difference will be how much pressure De Soto can orchestrate against Levi Groom; the P/C quarterback threw six interceptions combined in the team's two losses to Highland and Darlington this year.
Prediction: De Soto 27 Potosi-Cassville 21